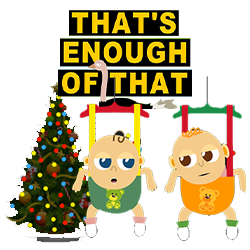 That's Enough of That-Xmas Special
"That's Enough of That" is a short-form, animated sketch comedy series produced by Brian Luff & Georgina Sowerby. The show stars an unlikely team of aliens, babies, police officers, animals, vampires and angels who perform larger-than-life and often bizarre sketches. Although surreal and outlandish, the show explores many quite grown-up themes such as unrequited love, the extinction of species and the breakdown of communication in relationships. The series also looks at our unhealthy obsession with self-image and how our lives are often controlled by our delusions.
This is the Xmas Special bonus episode.