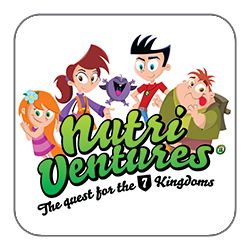 The Quest for the 7 Kingdoms
The Quest for the 7 Kingdoms is the first children's entertainment brand in the world developed exclusively to promote healthy eating in a positive creative environment so that kids associate good feelings with healthy food. Destined for an audience from 4 to 10 year-old children, it was produced in 2013 and aired in 47 countries, including on Hulu in the USA, Disney Channel in Spain, RPT2 in Portugal and SBT in Brazil.
The series is also well known in Portugal for its partnership with fast-food chain McDonald's through the creation of the "Nutri Ventures Happy Meal promotion", aiming at choosing fruit and vegetable in their meals rather than other ingredients. The promotion was a huge success and McDonald's is considering spreading the concept in other countries.
Languages
English – Spanish – Portuguese – Arabic